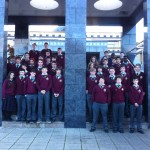 On Thursday 15th November, 3A1 and 3A2 visited the mosque in Clonskeagh. It was most informative and very enjoyable to learn about Islamic culture, beliefs, traditions.
Mr Selim was our guide and before we went into the mosque, he showed us some pictures in the hallway. Using the pictures, he spoke to us about the three Islamic holy shrines in Mecca, Medina and Jerusalem. Before he brought us into the mosque, we removed our shoes and Mr Selim asked us to stand in silence for ten seconds and think about the room we were about to enter. We sat in an orderly way on the floor of the mosque. Mr Selim explained the different features of the mosque including the way in which Muslims pray, the times of prayer, the five pillars and the Qu'ran.
After that we went to a conference room where Mr Selim showed us a video on the contribution made by Islamic scientists and inventors over the centuries. Then there was a question and answer session where students asked anything else they needed to know about Islam.
As well as being educational and enjoyable, the students were models of good behaviour. Well done to them all.